Your gift truly makes a difference in the lives of Native women. Thank you for your support.
Each gift made to American Indian Women of Proud Nations strengthens our mission to support Native women to build healthier lives for themselves, their families, and their communities. We are committed to developing a movement-building framework for collaborative leadership in five vital areas: education, community,  health, spirituality, and economic development.
AIWPN provides advocacy for women's rights, financial disparities relief, educational scholarships and resources —all of which are rooted tribal sovereignty, traditional ways and beliefs.  AIWPN is a 501(c)(3) non-profit organization.
Give Online:
---
Mail a Donation:
Make check payable to AIWPN
Mail to: AIWPN | 4216 Loch Harbour | Raleigh, NC 27606
---
Shop via AmazonSmile:
Designate  "American Indian Women of Proud Nations" as your charity of choice when purchasing through AmazonSmile.
---
Violence Against Native Women
More than four out of five American Indian and Alaska Native women have experienced violence in their lifetime.
North Carolina: 56.1% have experienced sexual violence (RCCRC: 50.6% in 2020); 55.5% experienced physical assault; 48% experienced stalking, 66.4% experience psychological aggression.
Nationally - Native women suffer from violence at a rate 2.5 times greater than any other population in the United States.
Nationally - One in three Native women will be raped in her lifetime, and four in five Native women will be victims of a violent assault. It is startling that non-Native perpetrators commit the majority of these crimes.
On some reservations, Native women are killed at 10 times the national average.
(Information courtesy of NIWRC and Robeson County Rape Crisis Center)
---
Gift of Warmth - Energy Assistance Program
As we face our coldest time of year, American Indian Women of Proud Nations calls on you to join us in helping provide emergency energy assistance to tribal citizens facing financial hardships. Our tribal nations continue to be heavily impacted by COVID-19. Energy assistance relief is in dire need now more than ever.
AIWPN partners with Tribal Leadership and Urban Organizations in North Carolina. Priority is given to Tribes without LIHEAP (Low Income Heat Energy Assistance Program) or similar programs, and tribal citizens unable to participate in programs offered through their tribe.
---
Scholarship Programs - Conference & Education
Your generosity allows us to continue providing need-based scholarships for Elders to attend conferences, as well as, scholarships and programs that support our native women of all ages in achieving their education initiatives.
❤ Full AIWPN Conference Scholarship: $175.00
❤ Full Education Scholarship: $500.00
---
Nutritional Disparities
Our tribal communities have been devastated by COVID-19 and many are still recovering from previous natural disasters. Through establishing food pantries, and food donations,  we are doing our part by empowering our tribal nations to combat nutritional disparities in their communities.
---
AIWPN Logo Lapel Pins
$5.00 - American Indian Women of Proud Nations logo lapel pins come in gold and silver.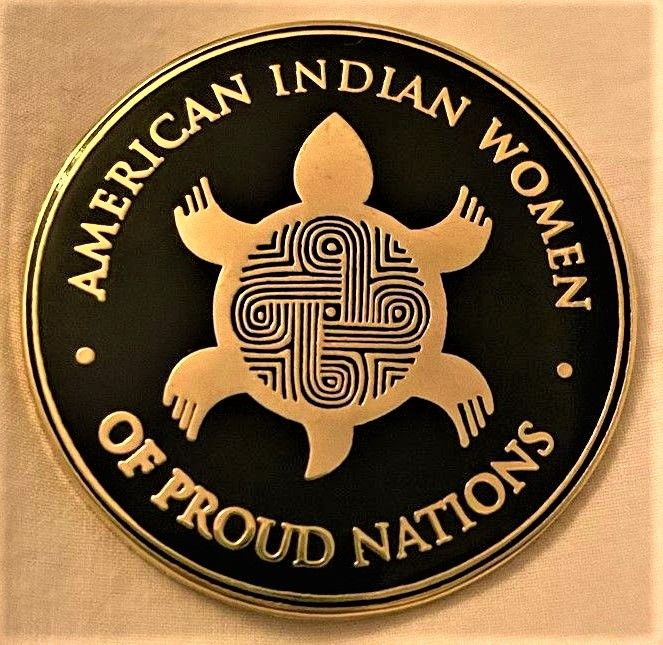 American Indian Women of Proud Nations is a Native owned and operated non-profit 501(c)3.  Your gift truly makes a difference in lives of Native women of all ages. Thank you for your support!